Published in the Shepparton News. By Jacquie Marshall Jan 31, 2023
Robbie honoured for service to ag, community | Shepparton News (sheppnews.com.au)
It seems only fitting that the same day Robbie Sefton was ambassador at Edward River Council's Australia Day ceremony on Thursday she was also inducted to the Order of Australia.
Known as the AM, the Order of Australia is awarded to individuals for service in a particular locality or field of activity or to a particular group.
The former local's achievements are many, and among those listed in her citation for the honour is her service to the National Australia Day Council.
The AM was presented specifically for "significant service to agribusiness, and to the community in a range of roles".
From her humble beginnings on a farm at Morago to the biggest boardrooms in the country, Robbie has led a fabulous life.
But what makes her most proud is that through it all she has remained true to her rural roots.
Robbie said she was "delighted" to be back in Deni for Australia Day, and even called in at the Conargo Pub for a shandy on the way to town to revisit memories of old.
She reminisced about a red Subaru ute and a friend named Tracy that would lead her to a jillarooing journey around Australia, and would uncover a true passion in the field of marketing.
With a bus ticket and $70, Robbie joined women she had met along the way and dove head first into the world of marketing.
It was there she was thrust into high networking, big business, big money and a career that would market and promote businesses and industries close to her heart.
Today Robbie runs a company that spans across Australia promoting and consulting with rural and regional communities influencing policies and connections that are both complex and challenging.
"For much of my life, I've called rural and regional Australia home and have run, with my husband Allister, farm businesses in Western Australia and New South Wales," she said.
"I have also operated my own rural, regional and agricultural communications business for many years, so I come at agriculture from the point of view of not only a business person, but also a farmer," she said.
"When I sit around board tables and government offices, I'm listening for producers, for farm workers, for suppliers, for everyone in the sector, and advocating for initiatives and opportunities that will progress the industry and help secure its future.
"It is the future that continues to keep me interested and engaged, because despite how far we've come there's still opportunities to become more productive and efficient as an industry and really cement our place on an increasingly-competitive global stage."
Robbie attributes part of her strength and standing as a woman in business to the love, support and guidance she received from her mother Pam Sefton, especially after the passing of her father.
Addressing Edward River Council's Australia Day ceremony on Thursday, Robbie said it was a "big surprise" to receive an AM.
"It was an enormous honour, particularly given the other individuals acknowledged this year," she said.
"Agriculture and rural and regional Australia have always been such a big part of my life, and I am so lucky that I am still inspired by the work I do – more importantly by the people I meet, and by the communities in which we operate. Particularly in the Deni area."
As her honour still sinks in, Robbie says she is more aware than ever of the significance of Australia Day – particularly given the debate around the date of the national day.
"I have always been an enthusiastic supporter of the Australian of the Year Awards, believing that national recognition such as this actually elevates us all, providing inspiring role models whose stories have so much to teach us and whose efforts have had life-changing impacts for many," she said.
"For me, this is what Australia day's all about – celebrating who we are and what we stand for, on whatever date we may choose in the future.
"It gives us an opportunity each year to pause and acknowledge the nation we live in, the unique qualities of our people, and for everyone to have the chance to celebrate in their own way.
"Receiving an AM for services to agriculture, makes me so honoured to be recognised alongside so many inspiring Australians.
"You don't do what you do for recognition. I know that's what everyone says, but it's true.
"You do it because you love it and you're passionate about it, and if you can achieve even one small win for your community, then that is the greatest reward."
Robbie's many and varied achievements in her AM citation are listed under the sub-headings of conservations, community, National Australia Day Council and professional and business.
The citation also makes note of her previous awards and recognition, which includes being a winner of the Local Regional Category of the 100 Women of Influence Awards in 2015, a state finalist in the Telstra Small Business Awards in 2011 and being names Rural Woman of the Year, Rural Industries Research & Development Corporation, in 2002.
Under conservation Robbie's roles include being a board member of the Great Barrier Reef Marine Park Authority, Smarter Regions CRC, CRC for High Performance Soils and Watertrust Australia.
Her community roles include an involvement with Headspace, the Federal Government's Regional Telecommunications Independent Review Committee, the NSW Government's Visitor Task Force and as a board director of Australian Rural Leadership Foundation.
She was also recognised for chairing the panel for the Independent Assessment of the Murray Darling Basin Social and Economic Conditions from 2019-20.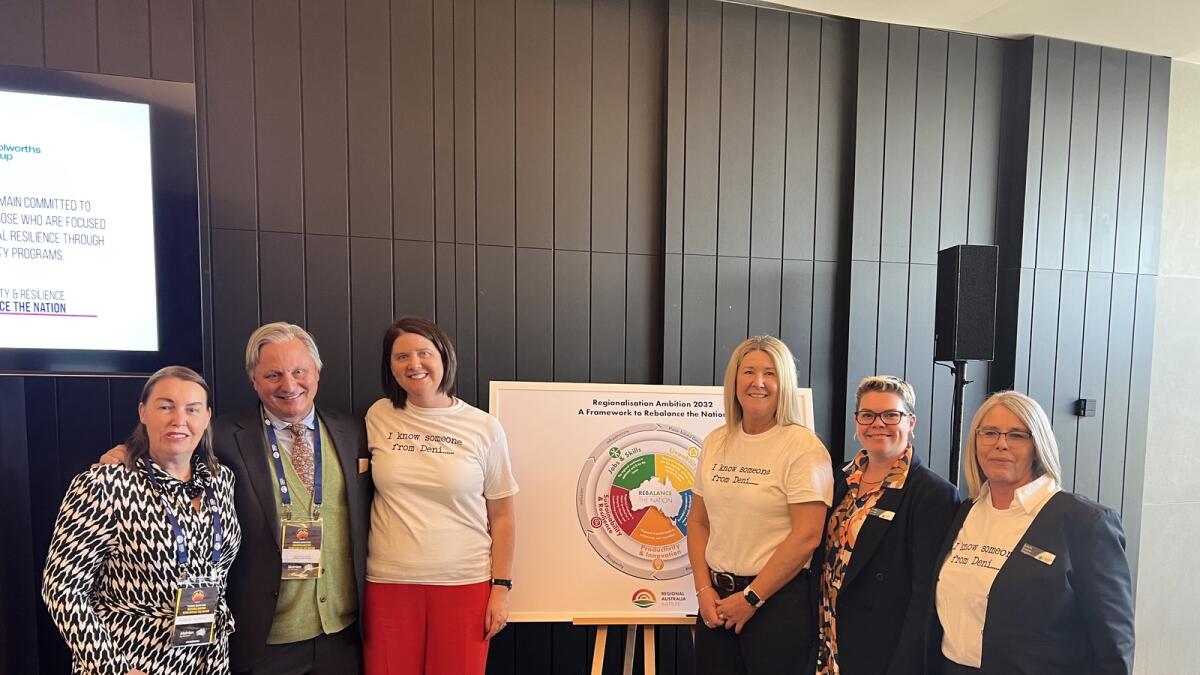 On a professional level Robbie was not only honoured for her work with her own businesses – Sefton & Associates and Nangandie Pastoral Company.
She was also noted for roles as a board director with Prime Media Group (2019-2020), foundation director with Graziers' Investment Company (2007-2016), founding member of National Rural Press Club and as a member of both the Reserve Bank of Australia Small Business Finance Panel (2012-2015) and Australian Tax Office Small Business Advisory Group (1998-2000).
In her role with the National Australia Day Council, Robbie was its deputy chair from 2014 to 2021 and board member from 2010 to 2014. She was also a board member of the NSW Australia Day Council from 2006 to 2011.